09 Apr

MHA: Michigan Hospital Chief Medical Officers Urge Michigan Residents to Vaccinate As COVID-19 Pediatric Cases Rise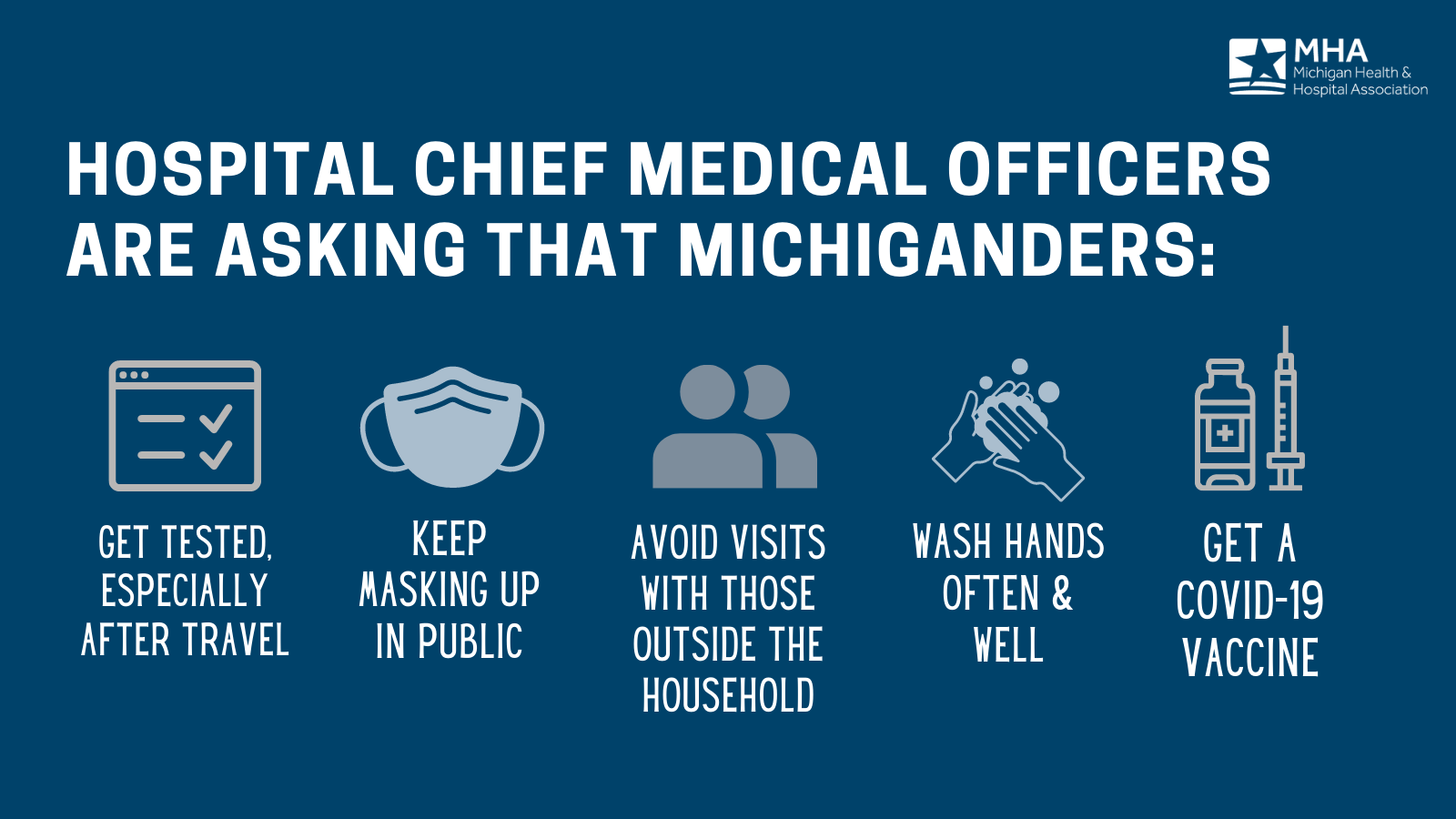 MHA:  Michigan Hospital Chief Medical Officers Urge Michigan Residents to Vaccinate As COVID-19 Pediatric Cases Rise
Posted on April 09, 2021
The following statement is made on behalf of chief medical officers of Michigan's community hospitals.
The safe and highly effective COVID-19 vaccines continue to bring us hope. However, the current surge of cases in Michigan is troubling. While our healthcare workers are now safer because of vaccines and more personal protective equipment – and our facilities are safe for all who need care – we are concerned for our communities, including children, who are being infected with COVID-19 at all-time high rates. The variants are more contagious and deadly, infecting more adults and children, and bringing more young people into hospitals than ever. Daily pediatric COVID-19 admissions have increased by 237% since Feb. 19. Currently, 42 children are hospitalized in Michigan with COVID-19. Every day, an average of nine children are admitted to our hospitals.
Children are not immune to COVID-19 nor are they immune to the long-term impacts of complications like multisystem inflammatory syndrome in children (MIS-C). Severe cases of MIS-C have occurred even in children who presented asymptomatic for COVID-19. The long-term health impacts of COVID-19 or MIS-C can be devastating. We have seen heartbreaking stories of children on ventilators, experiencing amputation and more. Even one case is too many. At the same time, nearly all children have felt the impact of the pandemic in some way. Pediatric depression[1] rates are rising and well-child visits have declined, as have childhood vaccination rates[2].
The last 12 months have been emotionally, physically and mentally exhausting for everyone. We want to get back to a new normal and a point where birthday parties, sleepovers and sports carry no risk of transmission. As physicians, we are asking Michigan families to do these five things to keep everyone in your household – especially your kids – safe and healthy and eliminate COVID-19 for good.
If you traveled for spring break, are spending time with people outside your household without masks, or are symptomatic/have been exposed to COVID-19, get tested quickly to protect your own family and others from the risk of severe illness.
Wear a mask outside your home, especially when around large groups and when indoors with those outside your household.
Limit your time – especially indoors – with people from outside your household.
Continue practicing frequent, robust hand washing.
Get vaccinated as soon as possible with whatever shot is available to you and appropriate for your age group. The vaccines are safe and effective for people 16 and older (Pfizer for 16 and up, Moderna and Johnson & Johnson for 18 and up) and can stop the chain of spread among adults and children.
We have made tremendous progress in vaccinating Michigan. The vaccines are proving to be more than 99% effective in preventing illness, hospitalization and death in Michigan – but we are in a race against aggressive variants that increase the risk of hospitalization for everyone. Children under 16 cannot yet receive a vaccine, but parents and caregivers making the individual choice to get vaccinated can protect those around you – and we urge you to do so. By doing so, we can collectively stop this pandemic once and for all.
---
[1] CDC has reported a rise in the proportion of mental health-related visits for children aged 5–11 and 12–17 by approximately 24% and 31%, respectively.
[2] CDC has reported childhood vaccination rates in Michigan had dropped by as much as 22% at the beginning of the pandemic.
Press Release from Michigan Health and Hospital Association.  Click here for full article.